You can dip in to any of our courses with little or no experience and learn how to make great products of consistent quality.
We also offer a structured and comprehensive learning plan that starts with any of our "Program" packages. These courses take you to a very advanced baking level so you can understand the processes and ingredients so you can write your own recipe or adjust any recipe to gain the results YOU require.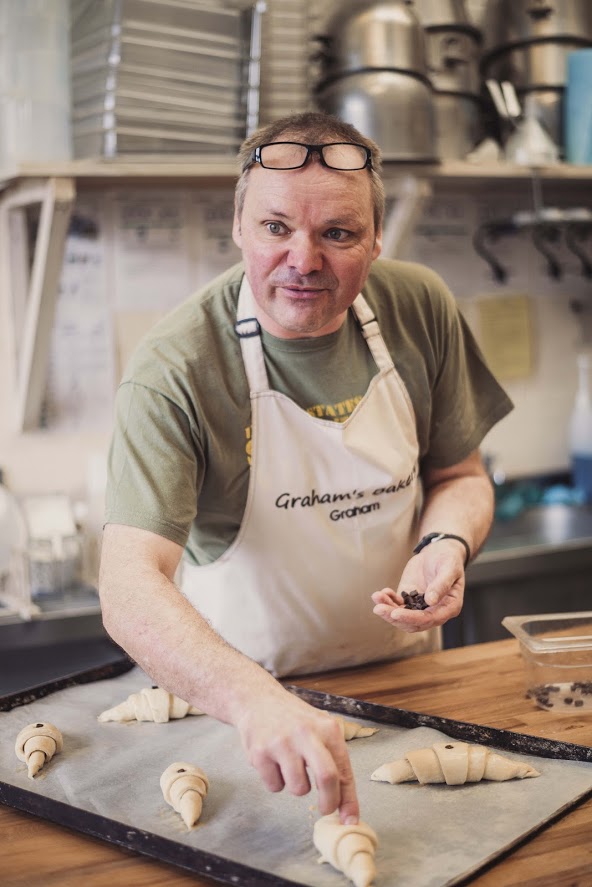 I'm a fully trained professional baker. I love using and adapting the traditional methods of making bread and also the challenge of creating new products to meet the diverse nature of today's society. My skills and knowledge give me an understanding of the sciences involved in the process of making bread and I enjoy the opportunity to share my passion through delivering these courses. Whether you are a complete novice or have some previous experience you should come away from one of these courses with the confidence to create products to be proud of in your own home or as a professional.
We've been running courses at Graham's Bakery for quite some time now and now understand the things that people need to learn and the mistakes they will make when learning to make bread so both our physical courses and these online courses have been developed to give the student the clearest and most appropriate information and skills.
below is some of our feedback so far
I wanted really to compose a heartfelt message of thanks for yesterday's magnificent course on the art of true baking. All of us totally enjoyed our time with you, myself particularly, I think you noticed I was hanging on to every word! Many of my questions were answered. I too am fascinated by the whole deal on bread, its history, its goodness, the way it has fed us for thousands of years, where it came from, the history of leavening. In my own way, usually sourdough, I do my best and those who have had my breads always say how good they are (when I look them in the eye that is) but after yesterday, once I can put the learning into practice it will raise the bar much higher. Just to say one thing that I am sure you, having met you, are aware of, is that the charge you made for this course led me (and think my friends too) to wonder what we were about to receive. Well our daily bread it certainly was; twice the price would have been a deal, a real deal for real bread
thank you very much for a most enjoyable day on the basic course. I am recommending to everybody, and will book myself on again once all the tax returns are in.
We just wanted to say a big thank you once again for a fantastic course today. It was very thorough and so informative, we had no idea that bread was such a complex subject! You are clearly very passionate about bread making and it certainly shows with your in depth knowledge and enthusiasm coming through loud and strong.
We will recommend the course to our friends and neighbours and give you a thumbs up on the media.
Just to say thank you for a excellent well oiled run course. Your instructions were exemplary and I certainly felt that had I learnt alot and for making a novice like me turn out some professionally looking result. I was so chuffed with my produces baked and practice plaits demystified will be looking to enroll onto some of your other course in the near future
Hi Graham. Thank-you for course on Sunday - I learnt a lot and now need to put it into practice!
Thank you very much for the course today we all had a great day, and hopefully will be back for another course. 
Just to say how much I enjoyed the Basic Breadmaking course on Tues. Loved your enthusiasm and dedication. Yesterday for breakfast we had one of the loaves with homemade strawberry jam and my husband said it was the best bread and jam he had ever had!
Just a quick email to thank you so very much for a really enjoyable day yesterday. I learned heaps, ate loads and realised how all my presumptions about bread-making stemmed from largely from old wives and hearsay.The pizza lunch was particularly enjoyable – as were the creations we made and brought home. The family are razing though my batch of beautiful bread faster than you can say Jack Sprat. We are a family divided, with everyone favouring a different loaf. But thanks to you and Charlie, you have opened up a wonderful future of floury heaven!
Thank you for a thoroughly absorbing day which has helped me learn new skills, encouraged me that I can make bread in this way and to help me realise there's lots of experimentation in the craft. You and Charlie served us so well, instructing us by your example to every detail and sharing your experience. It was a friendly and fun group too, and thank you for abundant refreshments to help keep us going throughout the day.
Thanks for a great course again yesterday, learning new things each time!! The bread was yummy too. Please could you send me the recipe for the biscuits you make for our courses.
I will be (have already started) singing your praises to encourage others to join your course, and hope to be back for an Italian adventure next year.
Thank you both for an amazing day, thoroughly enjoyed it and everyone at home is now enjoying the bread!!Looking forward to the bun course in January.
One day on the basic bread making course ~ F A B U L O U S ~ 
Graham is an excellent teacher.
I would highly recommend this course to anyone interested in making their own bread.
~ B L O O M I N G ~ B R I L L I A NT ~
I just wanted to say a big thank you for the course last Monday. It was great and I am really keen to do the Italian bread course soon!
A fantastic day. Over 8 hours of pleasure. 6 loaves made. Pizza for lunch. A must do for any food lover.
I would just like to say a big thank you for a very enjoyable day on the basic Bread making course. It was a lot to take in and I am sure I will make a few mistakes along the way.
Just a quick note to say thanks for the course. It was a great success and now after I have followed your recipes for a couple of times I am producing really good results
Fab course and a great day! Really enjoyed it, meant to ask you regarding that book you mentioned this morn, what was the name of it again?
Thank you so much for your course today. I can't remember the last time I went home so enthused.
Thank you so much for a fab day learning how to make the best ever bread. I have a happy hubby who now knows that I will be able to make him good traditional British bread when we move to france. Just the buns and ciabatta to master now. 
Thanks for the super day. All the produce was well received by the family and I felt so pleased with the outcome of my training day. Many thanks to you for your wealth of information and Charlie for his efficient management of clearing, sorting and drinks making.
The foccacia is going down unbelievably well. I took a couple into work today and made £25 for the Nepal disaster fund!
Today's Italian bread. Tastes wonderful. Thanks again for a wonderful day. - feeling happy.
Thank you for a great day of baking.
Just wanted to say how much I enjoyed the team building day on Monday, it was great fun and very rewarding. I surprised myself with the quality of my baking!
Thanks again for the course today, it was a fantastic, but tiring, day and I learnt so much. My wife was very impressed with the bread when I got home.
Thoroughly enjoyed the day yesterday, very constructive & informative. I hope with practice I can remember enough to justify your instruction. Thanks.
Just wanted to thank you for another brilliant day of baking. When we got home we were asked when were we going to open up our tea shop? But the family were there to divvy up the spoils and were very grateful they had come to visit. Jay was in his element as sweetmeats are his forte. So here's looking forward to the next time we meet. Thank you.
EXCELLENT BREAD MAKING COURSES
 Can't wait until next month's Italian Breads Course ~ see you soon Graham's Bakery !!
 I did this course today with my hubby and can't recommend it highly enough. 
It's certainly a very full day, we made 6 loaves each and learnt lots of technique and handy tips about bread making plus explanation of many myths on the subject of bread making
Useful refresher thanks - I can see what I've been doing wrong! Can't wait to come back next Sunday for Italian breads
Brilliant course, highly recommend it.
I did this course today with my hubby and can't recommend it highly enough. It's certainly a very full day, we made 6 loaves each and leant lots of technique and handy tips about bread making plus explanation of many myths on the subject if bread making
Hi, my husband and his mate attended your course today and completely and thoroughly enjoyed. I haven't seen my husband that chipper or enthusiastic about anything for years. Thank you for making his day
Thanks for a brilliant course last Monday - I got so much out of it. Had a practice today whilst it was still relatively fresh in my mind and made a cob loaf which I incorporated cinnamon and raisins into and a seeded bloomer. I could hear your instructions and tips at every stage!!
I am sorry I didn't get back to you sooner to say a big Thank you for the excellent Bread Making course that I attended on 2nd January. I have attended one previously but didn't learn half as much as on your course - or produce such lovely loaves. I also think the recipe cards you produced were very good - the right size & laminated!
I will look for other courses you do in the future & pop in one Friday for a Lardy Cake
I just wanted to say thank you for a really enjoyable day on Monday. I was delighted to find that the course covered the things I wanted such as how to check if your dough has been kneaded enough, rather than just how to follow a recipe - I can do that all by myself!
 All the bread I brought home was delicious. My boys commented on how good the rolls were (used for packed lunches) and my husband got to eat lardy cake
Hi Graham
Just writing to say my husband came to your bakery on Monday for a baking day and had a wonderful time. After many attempts at making his own bread and not succeeding too well he can now see where he,s been going wrong. A brilliant day which he really enjoyed and of course the added bonus of the goodies he brought home which we enjoyed.
Many thanks
Dear Graham,
Thank you for a fantastic day - your patience and knowledge really made the day so enjoyable and informative and leaving with very decent loaves was incredible! I shall certainly recommend your courses.
I wanted to say thank you for such a lovely day. Really enjoyed it, took a loaf of bread to work, (didn't last long) and gave your details, to friends, who are keen to do course.
Is it possible to give me the bread roll dates.
Also can I have your lovely biscuit recipe.
A fab day baking, looking forward to going back and learning to bake sweet buns. Thanks to Graham and Charlie for all the top tips for best bread making. Nicola
Hi... thanks for yesterday's course... my girls really enjoyed it and have plenty of enthusiasm for more breadmaking at home.
Their produce was very good.
Teacake for breakfast !
My husband was most impressed by my efforts yesterday and it tasted amazing . Thanks so much so a wonderful day.
Fantastic home baked bread and cinnamon buns: thanks Graham for teaching my husband to bake :-)
Thanks again - yesterday's course was enjoyable, entertaining, and educational. The three E's!
Thanks for the course today it was more than id expected and well worth the money . If I'm unable to get on the next course are you likely to run more ?
Just wanted to say how great the course was and how much I feel I have learned during the day. The bread does indeed taste as good as it looks even though I did have my doubts!
Many thanks for yesterday's course. All I have to do now is putting it into practice!
I think that I'm very likely to book onto your Italian & rye course later in the year.
Also hats off to your team for looking after us so well and to you all for working so hard throughout the day
I don't think you could make it better with your amount of commitment you gave it was totally encapsulating.
Had such a fun day here today!! Coming away with many many yummy goodies. Thank you for such a great time!!!
Thank you Graham and Charlie for a fantastic bread course today. I now have a freezer full of home made bread and looking forward to buns in April!
I thoroughly enjoyed your course - it was something I had never done before. I never thought there is so much involved in making bread, it was very interesting. And of course the bread is yummy ;-)
I will recommend your courses to everyone who will listen ;-)
Thank you again for the enjoyable and interesting bread making course Dave and I learned a lot we will spread the word .
Just wanted to Thankyou both again for a really fantastic and enjoyable day, yesterday!
I hope to be able to book onto one of the Italian days , so please keep me " in the loop " re dates. All the best,
I would like to say a very big thank you on behalf of myself and Jay for a brilliant days bread making. We have learnt so much and hope we can retain the knowledge to continue to make some bread at home. We really did enjoy the whole day. Please give our thanks to Kerry for her hard work and lots of drinks, it was much appreciated.
We would definitely be interested in doing the other two works shops when you can let me have the dates please.
Fantastic day today can't wait to put it all to the test at home, thank you Graham and Charlie
Thank you very much for an excellent course. I am fired with enthusiasm. My husband loved the bread, as did my two neighbours who were recipients of the wholemeal loaves.
Thank you for a very informative and inspiring day. I am definitely going to make my own bread for a family visit this weekend.
19 February, 2015
Excellent day
05 February, 2015
Would recommend to anybody - a really good experience
05 February, 2015
Fantastic day, thank you so much
05 February, 2015
Thanks, fantastic day, really enjoyed it - will be back for other courses.
05 February, 2015
Fabulous day. Highly recommended. Very successful gift for my husband
29 January, 2015
Had a great day, learnt lots and look forward to coming again. Many thanks.
29 January, 2015
You and your assistant are good. Don't change it.
25 January, 2015
Thank you for an enjoyable and interesting day we learnt lots
25 January, 2015
A great experience. I have already bought some fresh yeast!
25 January, 2015
Many thanks for a great day.
25 January, 2015
Thank you Graham for your patients and fantastic teaching skills, I had a brilliant time today.
25 January, 2015
ThankYou for a good day.
25 January, 2015
Thanks for a great day Graham, we really enjoyed it.
25 January, 2015
Excellent day, very enjoyable and informative.
25 January, 2015
We really enjoyed the day and learned a lot. Thank you.
25 January, 2015
Thanks very much for a great day
18 January, 2015
This is a first class course, your knowledge coupled with your teaching skills and hospitality couldn't be better. The course is easily worth more than you are charging.
18 January, 2015
His assistant Charlie was great, fan day!
18 January, 2015
Very enjoyable and well organised
18 January, 2015
A very good and informative day of bread making. Extremely impressed by the quantity of goodies all made in a warm and friendly atmosphere without feeling over pressured. Lunch and especially bread tasting made a perfect day. We will be back and I'm ditching the bread making to make bread the proper way.
18 January, 2015
Absolutely fantastic experience. The whole day was an exploration of practical, back to basics, wives tales binned and the most important we all learned to make, bake and enjoyed eating the end product 'superb bread'. GREAT VALUE.
12 January, 2015
Excellent day, thank you - learned so much and feel very inclined to start breadmaking for myself - I will be back !
12 January, 2015
Thanks for a great day.
11 January, 2015
Enjoyable day many thanks, learnt a lot.
10 January, 2015
Had a brilliant day. Very educational.
10 January, 2015
A brilliant day thank you Graham and I learned so much. I'll be back for sure.
10 January, 2015
really enjoyed the course - will be back for follow on course
10 January, 2015
None he has it all in hand
10 January, 2015
Thank's for a great day, my daughter and I really enjoyed ourselves.
06 January, 2015
Thank you Graham for an amazing day!! Coming back soon!!
05 January, 2015
Thank you for a very enjoyable day, Graham, though quite long.
04 January, 2015
Excellent day, well worth it, learnt so much will definitely attend another. Is there any way of adding more courses for example cake making and decorating ie Birthday/Christmas cakes. Thank you very much for a very enjoyable day.
03 January, 2015
Thank you for a great day, we learnt a huge amount and came away with a weeks worth of brilliant bread.
02 January, 2015